Youtube Video and Audio Downloader / Converter
Something went wrong...
we could not find download link for you. Please click
Download
button to try again, often errors are temporary and we can do better on the second attempt
Sorry, our Instagram extractor is currently under maintenance. Planned completion in 3 days. Please try again later.
eh... link turned out to be quite challenging and is taking longer than expected, but we are working on it!
some links for can be very hard, have last couple of tricks up our sleeve to try before giving up
Video
| Quality | Format | Size | Download |
| --- | --- | --- | --- |
Audio
| BitRate | Format | Size | Download |
| --- | --- | --- | --- |
Youtube is awesome , everyone knows it, the 2nd most popular website in the world, over 30 Billion visits every month, millions of High quality HD videos, it's fast, it's free - what not to like!
If you have high speed unlimited data internet connection that is. If not - that is where trouble starts as Youtube has very limited functionality to download and save videos and audios. So forget about your regular routine of watching favorite vids or listening to your favorite mp3 audios on the planes, in subways, overseas with roaming, on hiking trips in the woods, etc etc list goes on.
dOnline can help! We developed our Free Youtube video Downloader and Converter so that you can do it online:
Download video from youtube in Full HD, HD, SD quality and save them right to your mobile, laptop or PC in advance while you are on fast WIFI.
Convert them into various convenient formats, including but not limited to mp4, webm, 3gp.
Download mp3 only from youtube vid, so that you can keep your music close on your phones.
Do all of it online , without the need to install or configure anything at all!
dO it Online and free as simple as 1-2:
If you are on the page with video - Copy link from address bar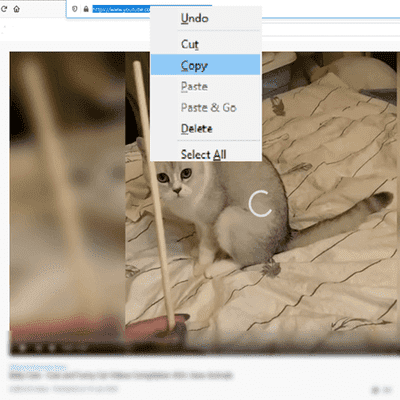 Paste into dOnline donwload field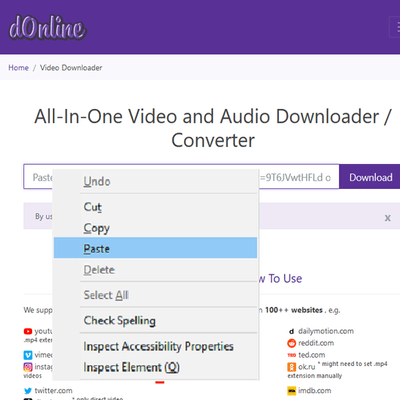 Frequently Asked Questions:
It really depends on your favorite browser and how it chooses to handle downloads. dOnline would download files the same way as any other file on the internet so you probably are already familiar with it. Most browsers show popup where you can choose location yourself or just download to default location, which is a Downloads folder for you user.
Videos and audios are downloaded directly from Youtube servers. dOnline does not store or copy any videos or audios. We just look at the link you give us in order to find links that can be used to download video you want for free.
Most of the time it is only a minor inconvenience - you can fix it by manually setting extension to .mp4 for video and to .mp3 for audio and it will work! We do have several proprietary way we try to find and offer best files with proper extensions but unfortunately they do not work every single time, we strive to keep these errors to less than 10%.
Absolutely not! We respect our Users privacy and do not track neither links nor Users themselves. We also don't require Users to create any accounts for any kind of tracking throughout our website.
This can not be done. If vid is specifically marked by Youtube user as Private to block it from any viewing or downloading - we will not permit downloading it either. It is also very difficult technically and would require us to ask for Youtube password that we will never do.
Yes, but you need to wait until steaming is finished. Then you can download video from youtube link the same way as for regular non-streaming video.
No, all our youtube video downloads are completely free. We also do not impose any limits on the number of downloaded vids or audio or their sizes.
For videos either MP4 or WEBM . File size or quality wise those are pretty much identical, WEBM being newer and technically it has better quality - but difference is so minimal that most Users won't even notice. Support wise though MP4 is way ahead as it is supported pretty much anywhere nowadays, iPhone users on the other hand might see some issues and require additional apps installs to be able to play WEBM.
For music and other audio - MP3 or WEBM . Story is very similar to video formats, MP3 is widely supported while WEBM audio files might need some additional app installs on iPhones.
Most of the time we can provide any video quality Youtube itself provides as a result of our video conversion. We always strive to give at least
720p
or
1080p
quality or higher for every User video download request. It can happen though that after all our efforts we couldn't find the best format you would hope for - please provide us
Feedback
with the link to the video with unsatisfactory conversion result and we will try to implement more sophisticated features to make sure it does not happen anymore.
Sometimes Youtube does not provide video and audio in one file. It often happens for Higher resolution videos. In that case we do not have features to stitch vid and music together. But if you really want to save your video in those Full HD and Ultra HD quality options - you can download video and audio separately from dOnline and then merge them using other online services out there, just google "merge video and audio online".
Yes, our youtube video converter can convert files to MP3 format too! Just give us the link of the video and we will provide several options in the Audio section with different bitrate quality.
Bitrate refers to the quality of audio stream. You can use it to find the best music quality out of the ones we provide in the Audio section. Higher value means better quality.
We support both desktop and mobile Safari browsers which means that you can download online using the dOnline website with the same speed and ease as on any other platform.
Yes it can and it is completely free too. But we do impose a limit to playlist size, playlists that are way too long will timeout. We would advise to download videos one by one in this case.